AKNANDA HEALING ARTS
Teacher Training
We invite all those who wish to learn, deepen and walk the path of this wonderful art destined to health, to regulate emotions, to condition the physical and to sow a contemplative, flexible and determined mind.
This training is aimed at people with and without previous experience in Qigong or Internals Arts and / or end arts, athletes, yogis, martial artists, meditators, dancers, health professionals, psychologists, businessman, etc.
Modality and organization for groups
200 hrs Teacher Training Course Certification in Nosara, Costa Rica.
First Stage – Online Training (3 months)
Welcome Online Live introductory session with Q/A.
Special Videos material with Fundamental content and qualities:
Exercises and lectures. You will receive one video per week to practice and internalize.
3 (three) Online Live sessions with Q/A.
Second Stage – Direct Training (3 weeks intensive / 21 days)
21 days of training in a peaceful place in Blue Zone Nosara, Costa Rica.
Schedule: Mon – Fri Morning and Afternoon Training, Saturdays Morning Training Afternoon free/rest Sundays all free/rest.
Practice and theory.
Health Benefits
Refinement and cultivation of Qi (Energy life force).
Improves the respiratory and digestion system.
More elastic and strong physical body.
Healthy bones, muscles, tendons and tissues (Fascia)
Improves blood circulation.
High Body awareness coordination.
Cognitive development.
Reduces level of stress and anxiety
Fast recovery and better sleep
Emotional intelligence regulation.
Zen attitude.
Aknanda Qigong Method
Teacher training approach
Aknanda's methodology integrates these 3 forms of practice,
traveling and learning the benefits of each one of them.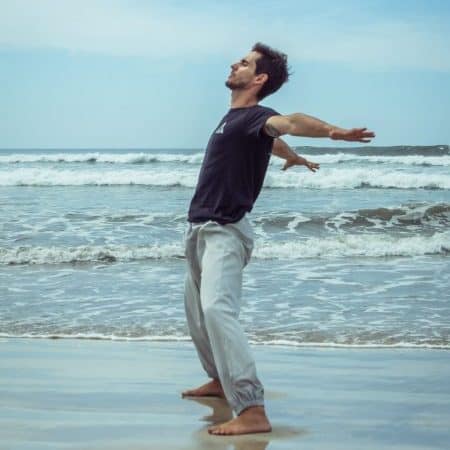 1. FUNDATIONS
Body Regulations – Transformation
Fundamental postures, stances and alignments.
Body internal stretching's and meridian openers.
Located and building the Dan Tian.
Connecting hands.
Relaxation and sinking process.
Body mind awareness.
Abdominal breathing.
2. CULTIVATING AND CIRCULATING ENERGY QI
Breath Regulation
Internal mechanics and coordination.
Movement and breath.
Awareness in 4 gates Qi flow.
Internal and external observation.
Mobilizing and sinking Qi.
3. MOVING MEDITATION AND UNIFICATION
Mind regulation
Intention inside the practice.

Sinking the mind.

Correct Yi (intention) building.
Recognizing the nature of the mind.
3 regulations become one unity.
Zen cultivation.
Theory Axes
Qigong Theory and function.
Nei Gong concept and principles.
Aknanda Qigong Method Pillars.
Taoist healing perspective and Alchemy.
Traditional Chinese Medicine background.
Taoist & Buddhist Methods and philosophy.
Qigong and modern science.
TRANSMISSION MODE
Aknanda Healing Arts integrates a way of teaching enriched by the oriental tradition, where the practitioner travels and discovers for himself, validating his own progress and inner wisdom; combined with western pedagogy establishing a solid balance.
SCOPE & CERTIFICATION
The main scope of the Teacher Training course is to acquire the necessary knowledge to know oneself and enjoy the tools to find one's own genuine "dynamic balance".
The second step is the opportunity to share it with others, being able to transmit the art of Qi Gong. All those who meet the practical and theoretical conditions will be able to access the certification awarded by Aknanda Healing Arts Academy.