Qigong Course: Water form
This Daoist Qigong secuence, express the spirit of the dragon and the water element.
The Aknanda "Water Form Qigong"
Inspired by the fluidity and continuity of water, this qigong form is a great method for release stress, increase energy flow inside the internal organs and meridians.
Good for strengthen and refining the "fascia net" creating an elastic strong body. "After some time", is a real healing moving "taichi" meditation for your body, breath and spirit.
Benefits of the Water Qigong form
Reach body mind connection.
Awaken Qi flow.
Self-centering.
Squeeze out toxins and emotions from the organs.
Better body alignment.
True Deep Relaxation, Calming the nervous system.
Full on flexibility and range of motion.
Restorative.
Improve concentration and coordination.
Endurance.
Solid immune system.
Daily healing routine.
What we ´ll cover
Warm Up Exercises / Meridian Qigong Openers.

Zhan Zhuang Practices (Static Qi Gong Foundation).

Standing Breathing Qigong Routine.

Aknanda Water Form (5 Movements & Techniques).

Water form Taichi Steps.

4 pillars of Aknanda Qigong.

Buddhism / Abdominal Breathing.

Qi Gong and Daoist Theory.

Zen Meditation.
Main Highlights
10hrs of quality Qigong training
Energy healing medicine.
Improve coordination and self skills.
Harmony, Balance, Empowerment, awareness, Fitness.
Zen attitude.
LOCATION
Hotel Vivo Nosara.
Guiones Beach, Blue Zone, Nosara, Costa Rica.
DATE
July 12, 2021 – July 16, 2021 | 5 days.
SCHEDULE
Morning training begins from 8:00 am to 10:00 am.
2 hours of training a day.
Guiones Beach, Blue Zone | Vivo Nosara Hotel
At 159 miles from San José and 80 miles from Liberia, the road to Nosara is as wonderful as the destination itself.
You will find a beautiful and continuous green landscape that will surprise you at every kilometer.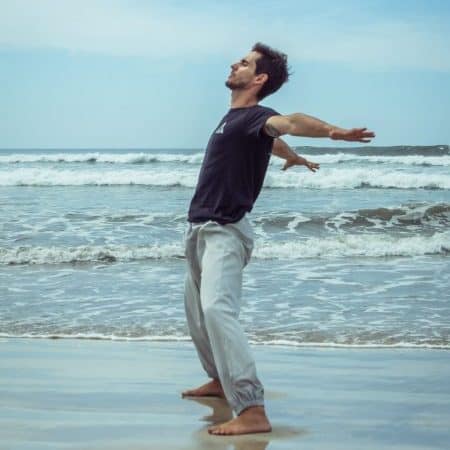 Price and pay options of the event
You can pay through Paypal or bank transfer.
Please, for more information, contact us by WhatsApp or e-mail.
Thank you!
Price:  320 U$D (Full course) on-line by PayPal.
Date: From July 12 to 16, 2021.
5 days | 2 hr of training each day.
For more information send an e-mail or contact me by WhatsApps.